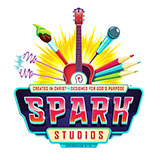 John Calvin Presbyterian Church
Vacation Bible School
July 18th – 22nd, 2022
Spark imagination and kick creativity into high gear at Spark Studios. In summer 2022, kids will learn that God's creativity didn't stop in Genesis. The Master Artist is working to redeem, reclaim, and transform us–God's creation–to the design God planned for us. Kids will see the beautiful truth that they are God's workmanship as they learn to use their talents to bring glory to God.
WHEN: July 18th – 22nd
TIME: 9:00 AM – Noon
WHO CAN ATTEND: Ages 3 (by 1/1/22 and must be fully potty-trained) – exiting 4th grade
COST:
$40 for First Child, $20 for Second Child in the
family with a Maximum of $60 Per Family
If you volunteer to work VBS your child can attend for Free.
HOW DO I VOLUNTEER: Please Email Louise Ochart at Louise.Ochart@Johncalvinchurch.org