OUR STAFF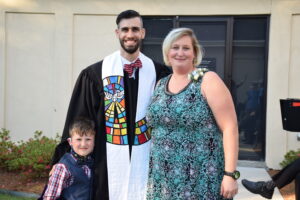 The Rev. Aaron Ochart (he/him) HEAD of STAFF
Aaron is a graduate of Princeton Theological Seminary and has been ordained since 2009. He has served as Pastor and Head of Staff at John Calvin Presbyterian Church since July of 2020.
Louise Ochart (she/her) CHRISTIAN EDUCATION LEADER
Louise is a trained Stage Manager in Theater and holds a Master of Fine Arts degree from Rutgers University. She has experience leading Christian Education at the Ochart's last church, and loves teaching children and youth about the Bible and our faith. Louise also serves as Office Assistant, using her gifts of organization for the church. _____________________________________________________________________
Kelly Cuppett (she/her) MUSIC DIRECTOR
Kelly Cuppett, MM, MMT, MT-BC is a board-certified music therapist from Tampa, Florida. She double-majored in Piano Performance and Philosophy at the University of Tampa, and earned two graduate degrees from Loyola University New Orleans in Music and Music Therapy. She has been involved in music ministry in various faith settings since 2007. She joined John Calvin as the Assistant Music Director in 2022, and became the Music Director in 2023.
_____________________________________________________________________