Welcome to Worship
Sunday Worship will be
at the regular time of 10:30am in-person and
on our YouTube channel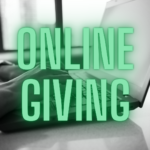 Watch Our Latest Worship Service
Our Next Livestream (If Available)
Daily Prayer Video
WEEKLY ANNOUNCEMENTS SEE WHATS COMING UP!!!
Announcements:
Devotional Spotlight: This week's devotional is: Awaken to Rest: Daily words of comfort and hope The Lord wants your freedom and for you to feel the joy in His heart for you. Listen to the words in this book to jumpstart a deeper relationship with Him. Sink into His vision of you. See that you are a canvas where He is creating a beautiful life. The finished work of the Cross secured your liberty into a radically new existence.
As you read these messages daily, let them awaken you to truths that are liberating. Awakening to His rest is the key to fulfillment and peace. Striving and anxiously trying to control your life is a dead-end that leads nowhere. Come into the open pasture and lean against the heart of your Creator. Allow Him to show you a new and better way.
One Great Hour Of Sharing: Lent is a time to think about others, instead of ourselves. Easter is a time for connecting friends, family, and those in need. ONE GREAT HOUR OF SHARING…
…is a time when people throughout the world come together and share what they have with others that have less!
ONE GREAT HOUR OF SHARING is the single, largest way that Presbyterians connect every year to work for justice, resilience, and sustainability, providing relief from natural disasters, food for the hungry, and support for the poor and oppressed.
During the season of Lent, we celebrate that God connects with us through Jesus' resurrection and connects us with "those who have least" – that's how Matthew 25 puts it – and that's what One Great hour of Sharing (OGHS) is all about.
We will be collecting the One Great Hour of Sharing Offering this Sunday and on Easter Sunday.
FOR A POTLUCK LUNCHEON AFTER THE CANTATA!: On Sunday, April 16th. the Presbyterian Women will host a pot luck luncheon after our annual cantata. Just bring a dish to share with others. It can be homemade or store bought. Anything yummy you would like, someone else is sure to like too! The Presbyterian women will be in the Fellowship Hall before the worship service to accept the food (and to have it heated or refrigerated, if necessary).The PW will provide the drinks. Plan to join us on April 16th. for beautiful music and wonderful fellowship as we join Chinese Presbyterian and Little Farms United Church of Christ as a community of believers praising God together!
Events and Meetings this Week:
4/2 – 11:45 AM – Choir
4/5 -11:00 AM – Staff Meeting
6:00 PM – Handbells
7:00 PM – Cantata Choir Rehearsal
4/6 – 7:00 PM – Maundy Thursday Service at Chinese Presbyterian
4/7 – 8:00 AM – Good Friday Drop In Prayer Vigil
4/9 – 10:15 AM – Choir Rehearsal
10:30 AM- Easter Sunday Worship Service
11:45 AM – Choir
HYMNS AND BEER We've also scheduled our next Hymns and Beer for Monday, April 24th at 7pm at Zony Mash! The brewery is child and pet-friendly, and there will be a food truck (Boils by Brad) serving up crawfish. In celebration of Earth Day, all the hymns will be nature-themed and half of the musicians' tips will be donated to Glassroots, a New Orleans non-profit which turns glass bottles into sand for use in coastal restoration projects. See you there!
Our Next Clothing Drive: We are looking for prom dresses and party dresses to take to the folks we have been working with in Lake Charles. Short, long, and all sizes. We will be collecting in April. Look for a clothing rack in the Narthex for this collection.
Love Offering For Olga: Olga, our long-term cleaning help, is retiring this week. Her husband, who has been battling mouth cancer for the last several months, started radiation treatments last week, and then will undergo chemotherapy. She needs to retire to be able to care for him. We would like to take up a love offering for Olga in recognition of her time with us and to support her in her time of need. Please put "Love Offering" in the memo line.
Birthdays: Lorraine Weindel 4/6, Chuck Corcoran 4/9
---
4201 Transcontinental Dr
Metairie, LA 70006
Church 504-888-1375
Playschool 504-888-1378