Welcome to Worship
Sunday Worship
10:30am in-person and
on our YouTube channel
Watch Our Latest Worship Service
Daily Prayer Video
WEEKLY ANNOUNCEMENTS SEE WHATS COMING UP!!!
Announcements:
PROGRAM OF HOPE: October is our month for the Program of Hope. We will be making sandwiches and bagging lunches at 2:00 PM every Tuesday in October except Oct. 31st.
MATTHEW 25: Tuesdays in October we will be presenting another program on the Matthew 25 initiative. Join us for this wonderful program at 12:30 PM in the Library. After the program you are welcome to join us in making sandwiches for Program of Hope. More information to come so mark your calendar now.
Books On Gratitude: As Fall approaches, our thoughts begin to turn to the upcoming Holidays. As we start to prepare our hearts for Thanksgiving and Christmas this is the perfect time to reflect on Gratitude. How do we live a life of Gratitude for what God has done for us? As Christians our gratitude goes beyond a list of things we are thankful for and turns our hearts to action. The first three books recommended by Christian Education Director for this month will help us to learn to live a life of Gratitude and the last two books will help us to understand that being thankful leads to action to give back to God through our time, tallents, and tithe. The Way of Gratitude: Readings for a Joyful Life – by Michael Leach (Editor), James Keane (Editor), Doris Goodnough (Editor) A hundred famous writers share their experiences, essays, fiction, poems, meditations, and inspired ideas on the joy of being thankful. These honest and heartfelt writings will add gladness to your days. Contributors include Wendell Berry, David Brooks, Joan Chittister, James Martin, Thich Nhat Hanh, Henri Nouwen, Mary Oliver, Richard Rohr, Joyce Rupp, David Steindl-Rast, Rowan Williams, and many others whose spiritual perceptions already bring joy and faith to millions
BLOOD DRIVE: We are excited to be hosting a Blood Drive for Vivian Peranio. Vivian is a 3 year old girl who was diagnosed with acute lymphocytic leukemia last year. This drive will be around the one-year anniversary of her diagnosis. She is now in the maintenance phase, meaning the worst of the chemo is over, but the blood center and her family are continuing to host blood drives to help not only Viv, but other children in similar circumstances. Even if you cannot give blood we can use your help with snacks or registration. Please speak with Sharon or Sue about volunteering. To sign up ahead of time please use the QR code on the bulletin board.
Pledge Drive: The Annual Pledge drive is starting soon. Be on the lookout for your pledge letter and card in the mail. Please send in your pledge card by November 5th, even if you are unable to pledge at this time.
BIRTHDAYS: Joan Albright 10/7, Larry Wise 10/9, Brendan Isham 10/9, Suzanne 10/15
PLAYSCHOOL: As usual the Playschool is keeping busy. Here are few ways you can get involved and activities to be aware of:
Trunk Or Treat is right around the corner on Oct 27th. We are collecting candy and snacks in the narthex, church office, and playschool office.

Oct 18th Cane's fundraiser at the Canes 4036 Veterans Memorial Blvd, Metairie, LA 70002 Just say you are with John Calvin and the playschool will receive a portion of the sales that day.

The Annual gift wrap and cookie fundraiser will be starting on Oct. 20th. So be on the lookout for more information soon.

The playschool will be hosting a Firetruck in the parking lot on Oct. 11th for fire safety week.
Pictures: Do you have pictures of recent church events? We would love to have a copy too. Please share your pictures with Louise via email or text so we can add them to the slides.
Food Drive: The Presbyterian Women are sponsoring a Fall Food Drive from Sunday, Oct 15th – Sunday Oct 22nd. This year the food will be given to Jefferson Presbyterian Church Food Bank, an USDA certified food bank. The food is distributed twice a month – the first and third Saturdays, servicing between 120 and 140 clients each Saturday. This is the only food bank in the area that is open on Saturday. Donations come mainly from Second Harvest with other churches, groups and individuals contributing. We would appreciate your support.
Boxes will be provided to receive your donations. Should you choose to make a monetary donation please make the check out to the church and indicate that it is for the Food Drive.
Calendar
10/8 – 10:30 AM – Worship W/Children's Church
10/9 – 2:00 PM – Outreach Committee Meeting
10/10 – 9:30 AM – Bible Time PreK – TK
12:30 PM – Mathew 25
2:00 PM – Making Sandwiches for Program of Hope
10/11 – 8:00 AM – Program of Hope
– Fire Truck Visiting the playschool for Fire Safety week.
10/12 – 10:00 AM – Game Day
10/6 – Set-up for Blood Drive in Evening
10/14 – 8:00 AM – 2:00 PM Blood Drive in Fellowship Hall
10/15 – 9:15 AM – Sunday School – Adults in the Library
Fellowship Time for Elementary Youth
9:30 PM – Sunday School for Youth in Fellowship Hall
10:30 AM – Worship Children's Church
2:00 PM – Fellowship Hall in Use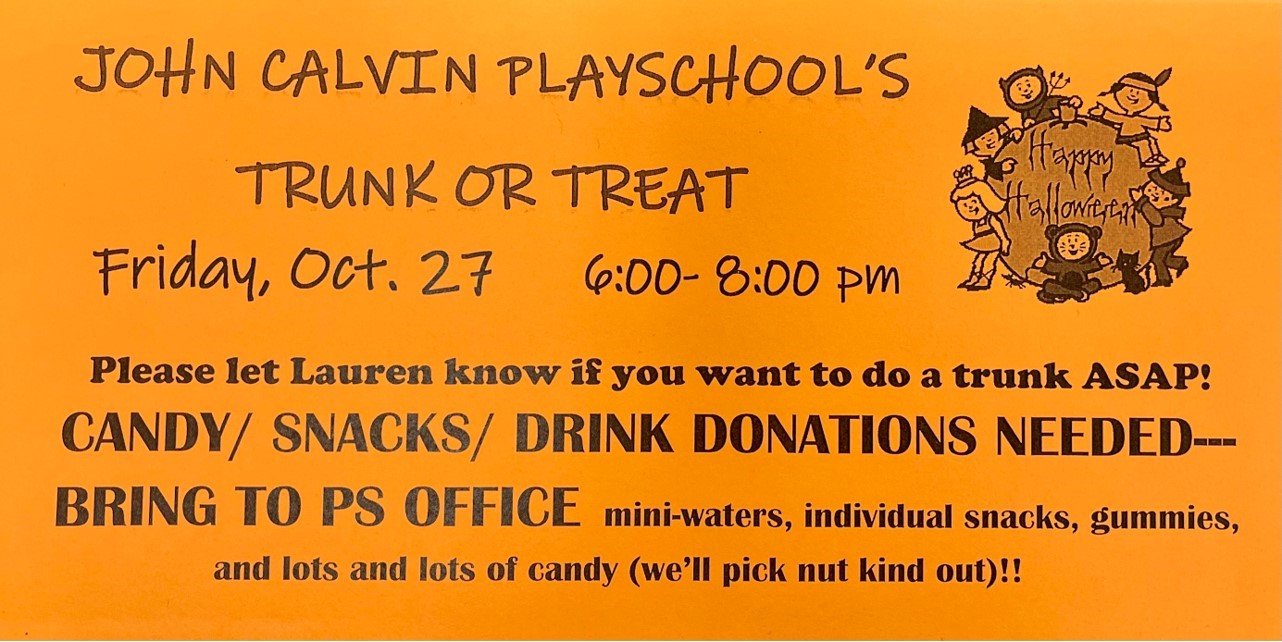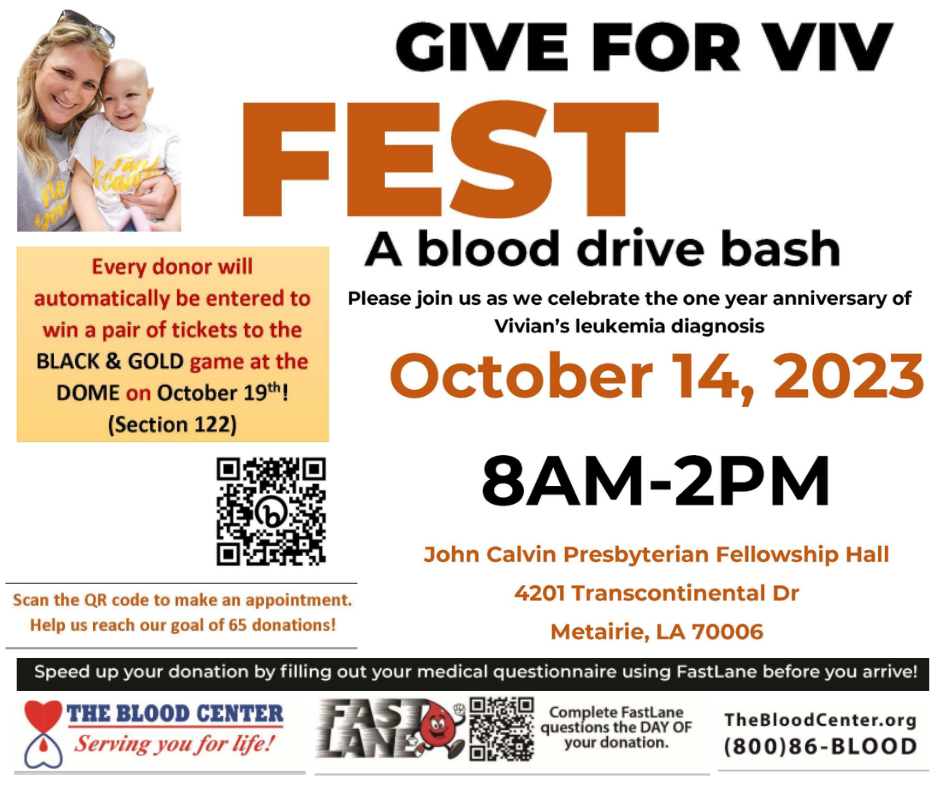 ---
4201 Transcontinental Dr
Metairie, LA 70006
Church 504-888-1375
Playschool 504-888-1378