Welcome to Worship
Sunday Worship
10:30am in-person and
on our YouTube channel
Watch Our Latest Worship Service
Daily Prayer Video
WEEKLY ANNOUNCEMENTS SEE WHATS COMING UP!!!
Announcements:
PROGRAM OF HOPE: October is our month for the Program of Hope. We will be making sandwiches and bagging lunches at 2:00 PM every Tuesday in October except Oct. 31st.
MATTHEW 25: Tuesdays in October we will be presenting another program on the Matthew 25 initiative. Join us for this wonderful program at 12:30 PM in the Library. After the program you are welcome to join us in making sandwiches for Program of Hope. More information to come so mark your calendar now.
Books On Gratitude: As Fall approaches, our thoughts begin to turn to the upcoming Holidays. As we start to prepare our hearts for Thanksgiving and Christmas this is the perfect time to reflect on Gratitude. How do we live a life of Gratitude for what God has done for us? As Christians our gratitude goes beyond a list of things we are thankful for and turns our hearts to action. The first three books recommended by Christian Education Director for this month will help us to learn to live a life of Gratitude and the last two books will help us to understand that being thankful leads to action to give back to God through our time, tallents, and tithe. TOct. 15th God's Abundant Table by Cynthia M. Campbell Goodnough (Editor) According to John Calvin, the true church was wherever the Word was rightly preached and the sacraments rightly administered. Put another way, church happens when believers gather to tell the story and break the bread. In God's Abundant Table, Cynthia Campbell begins with the premise that the Eucharist (the 'thanksgiving meal' of the church) is far more than a re-enactment of the meal in the Upper Room. Rightly understood, the Lord's Supper is connected to Jesus' entire ministry, to the entire story of God's relationship with God's people, to our everyday meals and to the ministry to which each of us is called as Christ's followers.
This reflection on key biblical texts and a six-session study guide, will invite you to discover the many connections in the Bible between what we do in the Lord's Supper, what it means to be in relationship with God, and how God would have us live every day.
Pledge Drive: The Annual Pledge drive is starting soon. Be on the lookout for your pledge letter and card in the mail. Please send in your pledge card by November 5th, even if you are unable to pledge at this time.
Pictures: Do you have pictures of recent church events? We would love to have a copy too. Please share your pictures with Louise via email or text so we can add them to the slides.
PLAYSCHOOL: As always the Playschool is keeping busy. Here are few ways you can get involved:
We are collecting candy and snacks in the narthex, church office, and playschool office for Trunk or Treat on Oct. 27th.

Oct 18th Cane's fundraiser at the Canes 4036 Veterans Memorial Blvd, Metairie, LA 70002 Just say you are with John Calvin and the playschool will receive a portion of the sales that day.

The Annual gift wrap and cookie fundraiser will be starting on Oct. 20th. So be on the lookout for more information soon.
Food Drive: The Presbyterian Women are sponsoring a Fall Food Drive from Sunday, Oct 15th – Sunday Oct 22nd. This year the food will be given to Jefferson Presbyterian Church Food Bank, an USDA certified food bank. The food is distributed twice a month – the first and third Saturdays, servicing between 120 and 140 clients each Saturday. This is the only food bank in the area that is open on Saturday. Donations come mainly from Second Harvest with other churches, groups and individuals contributing. We would appreciate your support.Boxes will be provided to receive your donations. Should you choose to make a monetary donation please make the check out to the church and indicate that it is for the Food Drive.
CONTINUING EDUCATION: Pastor Aaron will be attending Homebrewed Christianity's Theology Conference: the God-Pods Strike Back, October 19th to the 22nd.
CANTATA REHEARSAL: While Christmas still seems far off, rehearsals for the Christmas Canta are just around the corner. We will be starting Wednesday evening rehearsals in November so be on the lookout for more information and plan to join us.
CALENDAR
10/15 – 10:30 AM – Worship W/Children's Church
10/16 – 9:00 PM – Bible Time for 3's in their classroom
1:00 PM – Staff Meeting
6:30 PM – Session Meeting
10/17 – 9:30 AM – Bible Time PreK – TK
10:00 AM – Grace Circle
12:30 PM – Mathew 25
2:00 PM – Making Sandwiches for Program of Hope
10/18 – 8:00 AM – Program of Hope
Noon – 8:00 PM – Playschool Cane's Fundraiser
2:30 PM – EJICA
10/19 – 10:00 AM – COM Nola Cluster
10/20 – Office Closed
10/22 – 9:15 AM – Sunday School – Adults in the Library / Fellowship Time for Elementary Youth
10:30 AM – Worship Children's Church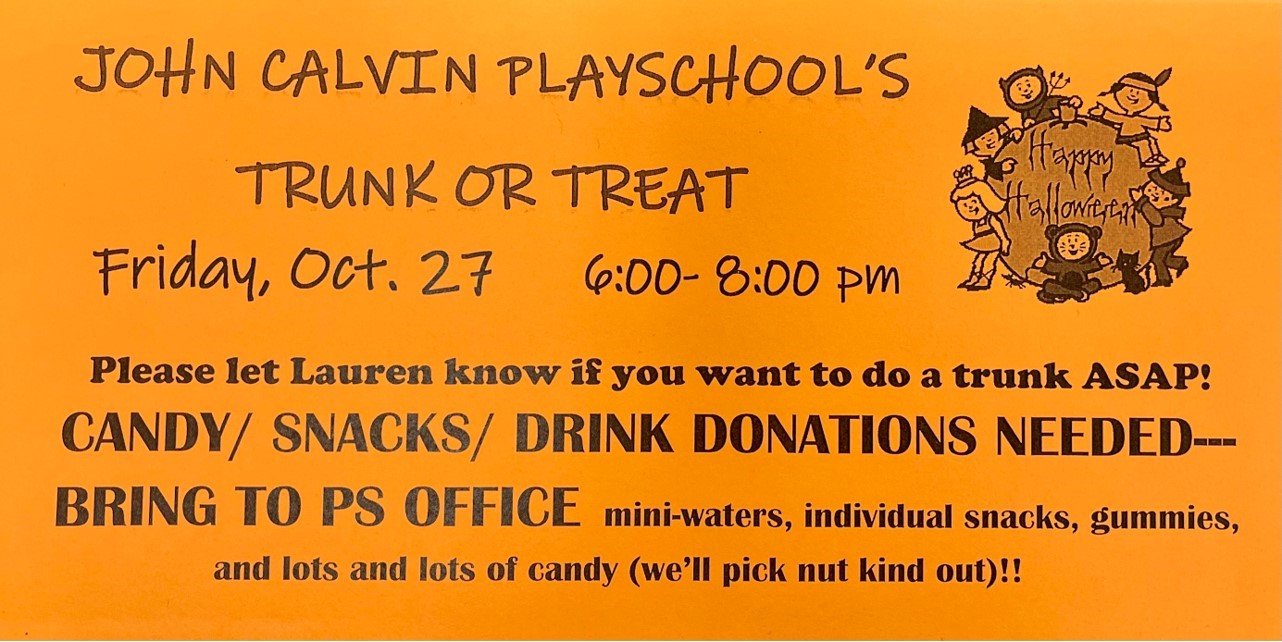 ---
4201 Transcontinental Dr
Metairie, LA 70006
Church 504-888-1375
Playschool 504-888-1378