Welcome to Worship
Sunday Worship
10:30am in-person and
on our YouTube channel
Watch Our Latest Worship Service
Daily Prayer Video
WEEKLY ANNOUNCEMENTS SEE WHATS COMING UP!!!
Announcements:
DEVOTIONAL SPOTLIGHT: Tongues of Fire: 40 Devotional Insights for Today's Church from the Book of Acts The book of Acts was a thrilling time for the early church. Now you can capture the excitement and passion of the first-century Christians in this devotional Bible study designed to take you through the book of Acts. In Tongues of Fire: 40 Devotional Insights for Today's Church from the Book of Acts, you'll connect the biblical narrative with today's reality in 40 easy-to-read reflections about Christian life and church.
Discover how the Spirit moved through early believers' lives, how the Gospel spread, and what we can learn as the body of Christ today. Through forty daily devotionals, you'll gain insights that can help guide your faith and expand your spiritual practices as you uncover how this book influences Jesus's followers two millennia later.
Tongues of Fire challenges us to seek answers on what today's church can learn from Jesus's first followers and how they moved under the Holy Spirit's power. This easy-to-read Bible study will give you forty days of devotional insights that can help you grow in your faith and discover how to celebrate the role of the Holy Spirit then and now. It will encourage you toward deeper community and an effective personal ministry. Perfect for women, men, or small groups.
HYMNS AND BEER We've also scheduled our next Hymns and Beer for Monday, April 24th at 7pm at Zony Mash! The brewery is child and pet-friendly, and there will be a food truck (Boils by Brad) serving up crawfish. In celebration of Earth Day, all the hymns will be nature-themed and half of the musicians' tips will be donated to Glassroots, a New Orleans non-profit which turns glass bottles into sand for use in coastal restoration projects. See you there!
SMALL CHURCH OPTIONS: Are you concerned about church attendance, finances and community engagement? Do you want to get involved with the solutions? Do you want to know what options are available and have productive conversations with other churches experiencing the same thing? Then join us on April 26th for the Small Church Options presentation. We will enjoy delicious pastalaya and an informative presentation about what the church can do in this day and age. Presented by the Presbytery's Committee on Ministry. Please use the RSVP insert so we know you are coming and we can have enough food.
GIVENOLA: Givenola day is May 2nd! Our New Orleans Area New Worshiping Communities: Okra Abbey, Be Well, Come Together, and Labyrinth Café are all on the list of recipients. Check it out on May 2nd at
OUR NEXT CLOTHING DRIVE: Are you taking advantage of this season to do some spring closet cleaning but don't know where to donate your clean gently used clothes? Fear not!! Our next clothing drive is starting right now. We are collecting clothing now through May 14th to be given out at the Program of Hope in June. We will have a sorting party on May 24th from 9:30 AM – 2:30 PM. See Sue or Sharon if you are interested in joining the party.
ALL CHURCH AND COMMUNITY PICNIC: Please plan to Join us on May 21st for our next youth service followed by an all church and community Picnic to kick off the Summer. This is an all hands on deck activity so please see the insert in your Bulletin to sign up to help. We welcome all volunteers and have lots of options for before, during, and after the event. The Church will provide the main dish, hamburgers and hotdogs, please bring a dessert or picnic side to share, such as salad, fruit, a variety pack of chips, or whatever you like to eat at a picnic. Most importantly don't forget to invite your friends and neighbors. This event is for everyone and we can't want to fellowship together.
ONE GREAT HOUR OF SHARING: A Big thank you to everyone who felt called to donate to One Great Hour of Sharing this year $1630.21 has been collected as of 4/10!
EVENTS AND MEETINGS THIS WEEK:
4/23 – 11:45 AM Choir
4/24 – 6:30 PM – Hymns and Beer
4/26 – 6:30 PM – Small Church Options
4/27 – 10:00 AM – Game Day
4/30 – 9:30 AM – 5th Sunday Fun Sunday School
10:15 AM – Choir
10:30 AM – Worship Service
11:45 AM – Choir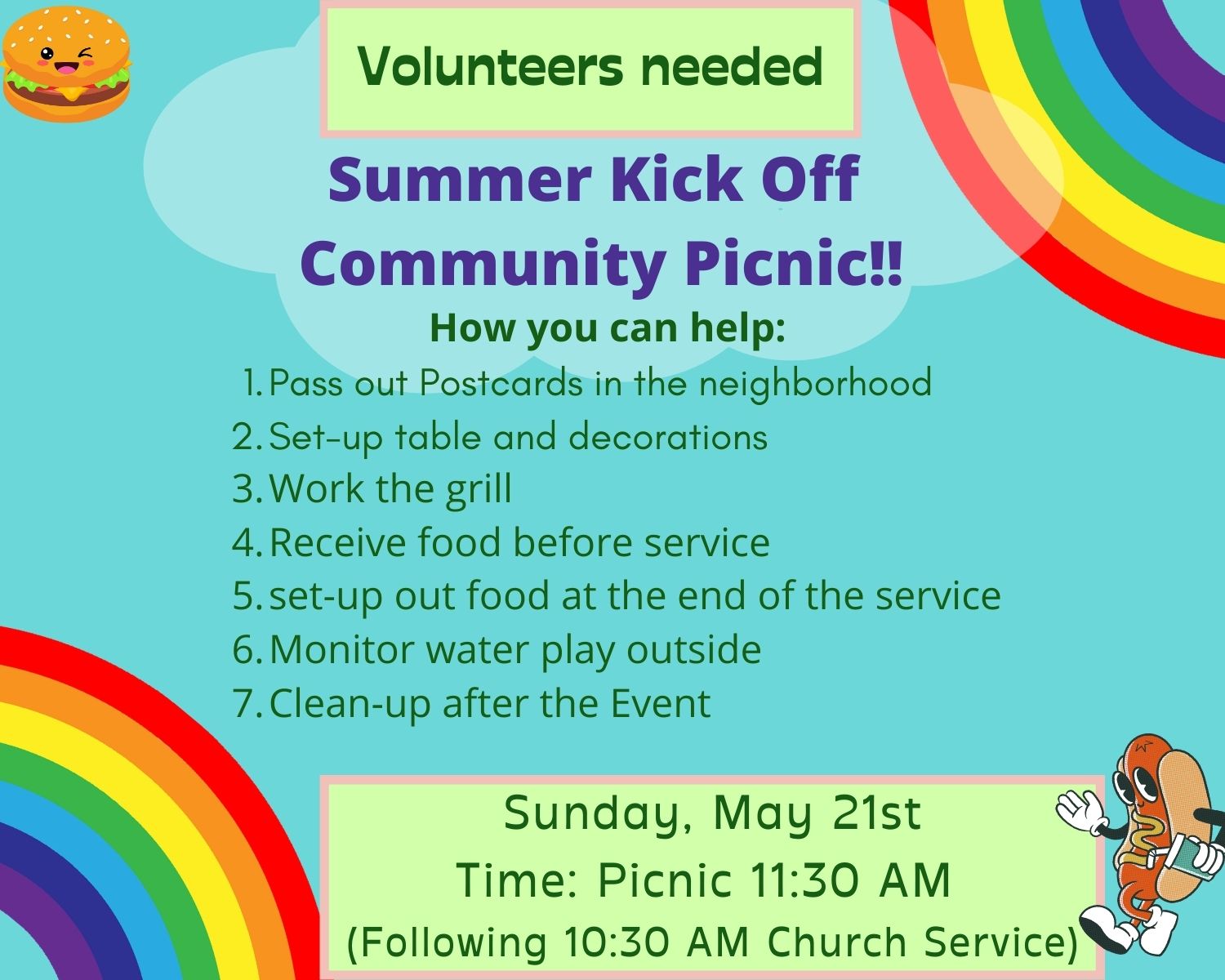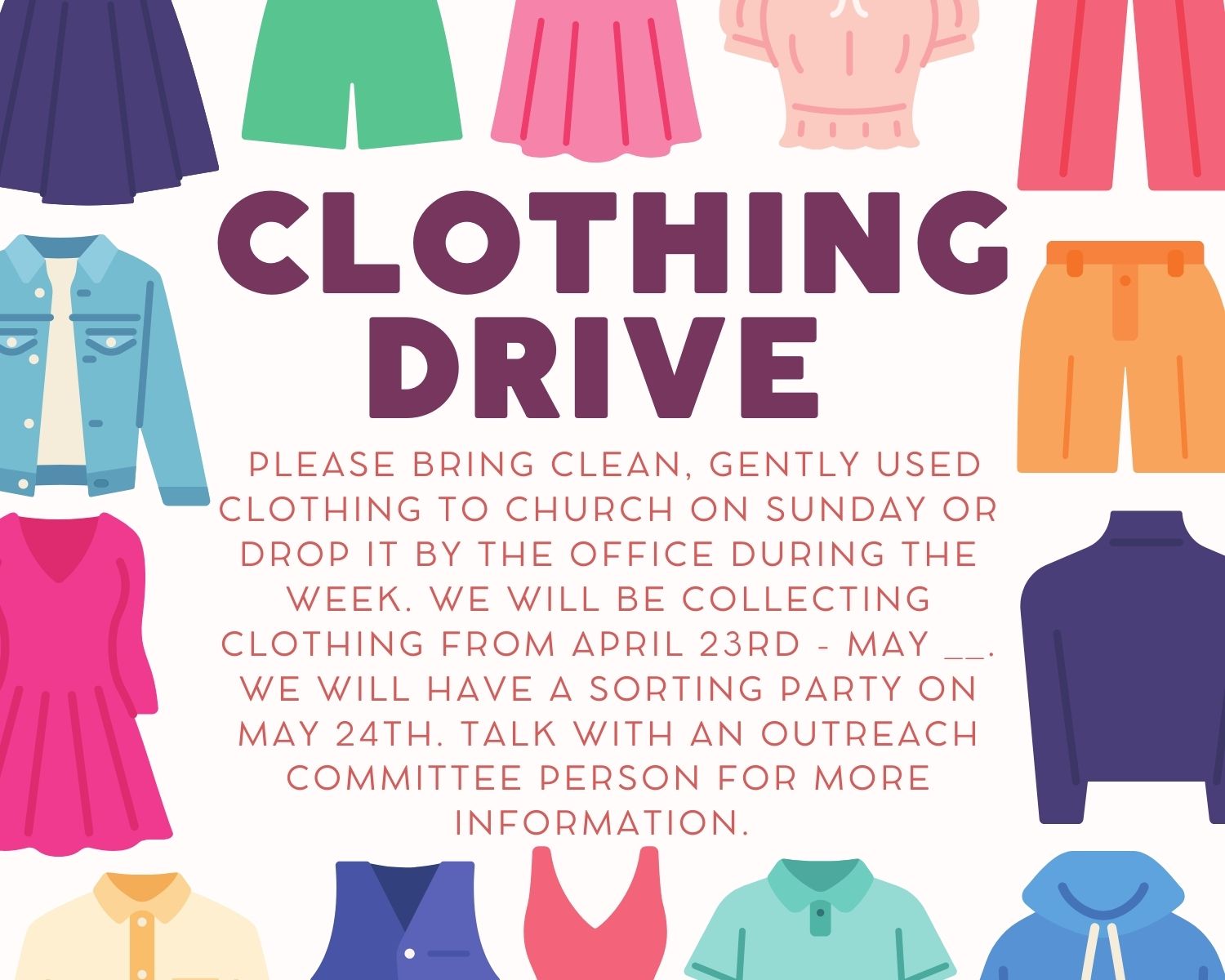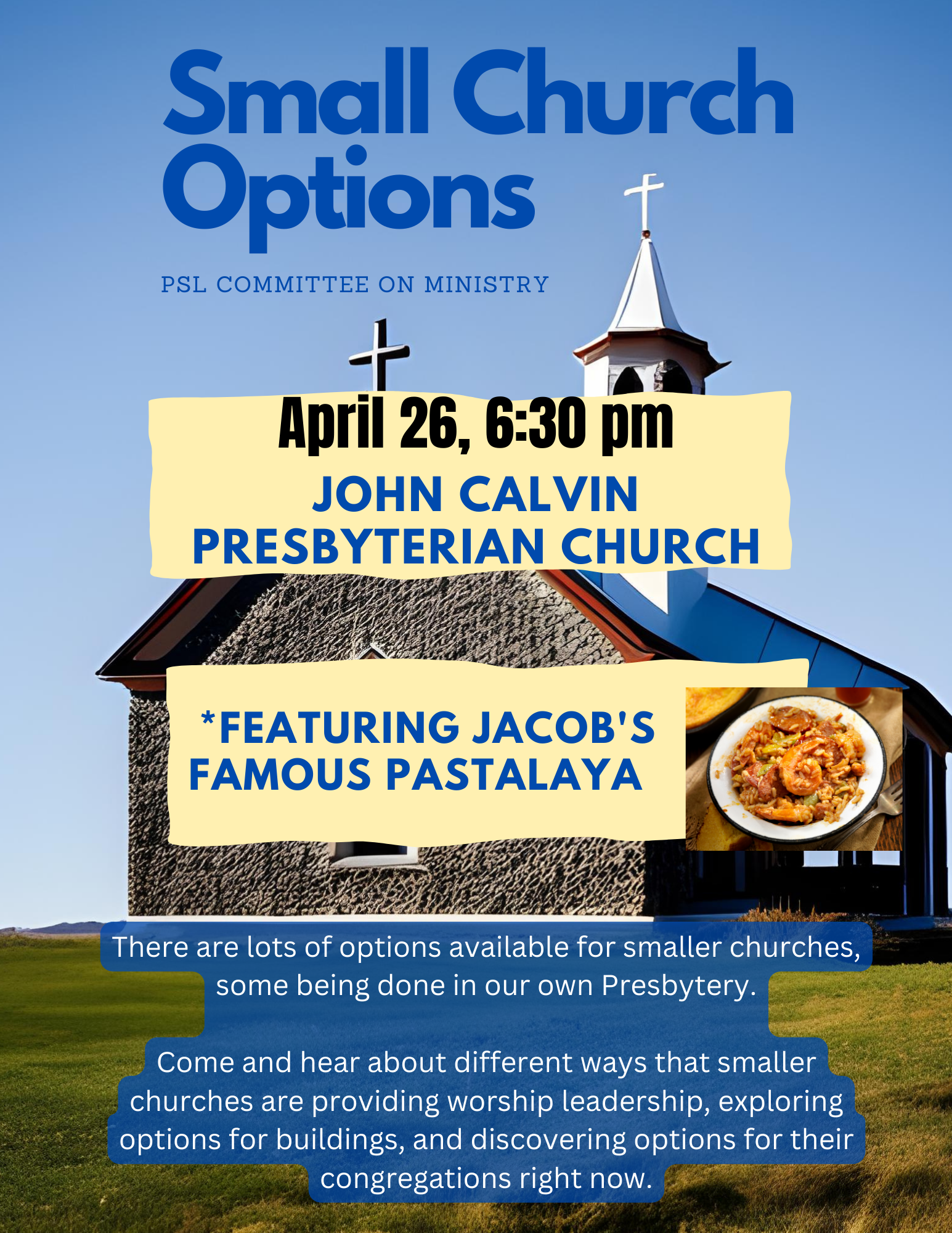 ---
4201 Transcontinental Dr
Metairie, LA 70006
Church 504-888-1375
Playschool 504-888-1378