Welcome to Worship
Sunday Worship
10:30am in-person and
on our YouTube channel
Watch Our Latest Worship Service
Daily Prayer Video
WEEKLY ANNOUNCEMENTS SEE WHATS COMING UP!!!
Announcements:
SMALL CHURCH EVENT: We had a great turn out for the small church event. If you missed this one and want to know more about this topic talk with Rev. Ochart or Sharon Fortin.
DEVOTIONAL SPOTLIGHT: God Is Still Speaking: 365 Daily Devotionals "God is Still Speaking: 365 Daily Devotionals" is a collection of light-hearted, God-filled, and provocative devotionals for the person who thinks devotionals are "too religious." Do you wonder if God has anything to say about what you face each day when you get up in the morning? Not sure that the Bible has much to tell you, but you are curious and willing to find out? The book includes relevant, brief, insightful devotionals designed to give you a powerful jolt each day. Each easy-to-read devotional provides a scripture verse, reflection, and prayer for every day of the year. Whether as a thoughtful gift or a personal resource, this book will encourage, inspire, and strengthen anyone's Christian journey.
OUR NEXT CLOTHING DRIVE: Are you taking advantage of this season to do some spring closet cleaning but don't know where to donate your clean gently used clothes? Fear not we are collecting clothing for the Program of Hope. We will distribute items to our POH guests in the hot month of June along with lunches.
The Drive will end on May 24 with our sorting and boxing party.
Needed are Men's and Women's: Summer Casual Slacks, Jeans, Tops, White Shirts, Blouses, Black Pants for Work, Plain Sturdy shoes. (No formal shoes or high heels, please), Tote Bags, new socks and underwear In ORIGINAL UNOPENED PACKAGE, Rain Ponchos and Sunglasses.
ALL CHURCH AND COMMUNITY PICNIC: Please plan to Join us on May 21st for our next youth service followed by an all church and community Picnic to kick off the Summer. This is an all hands on deck activity so please see the insert in your Bulletin to sign up to help. We welcome all volunteers and have lots of options for before, during, and after the event. The Church will provide the main dish, hamburgers and hotdogs. Please bring a dessert or picnic side to share, such as salad, fruit, a variety pack of chips, or whatever you like to eat at a picnic. Most importantly don't forget to invite your friends and neighbors. This event is for everyone, and we can't wait to fellowship together.
WORK DAY!!!: Thank you to all those that helped at Work Day on Saturday. Rev. Ochart, Amy Cardinale, Emily Garland, Andrew Nolan, Gwen Nolan, Ian Nolan, Mathew Fredenthal, Sharon Fortin, and Beverly Kenedy all worked hard to beautify our campus. They trimmed trees, cleaned gutters, trimmed hedges, weeded the garden beds and repainted our wooden sign. We don't have another Work Day scheduled as of yet but remember if you have a project you want to do, we are always happy to help you plan and support your efforts. Many hands make light work!
PW Birthday Offering: Next week we will be taking up the PW Birthday offering. Each year, the Birthday Offering awards grants to up to five programs. Primarily making possible capital improvement projects, the Birthday Offering supports domestic and international ministries, focusing on areas such as agricultural development, child care, community organization, criminal justice, drug counseling, economic justice, elderly care, employment training, homelessness, literacy, violence or women's concerns.
GIVENOLA: Givenola day is May 2nd! Our New Orleans Area New Worshiping Communities: Okra Abbey, Be Well, Come Together, and Labyrinth Café are all on the list of recipients. Check it out on May 2nd at https://www.givenola.org/.
EVENTS AND MEETINGS THIS WEEK:
4/30 – 11:45 AM Choir
5/1 – 6:30 PM – Called Session Meeting
5/3 – 11:00 AM – Staff Meeting
5/4 – 10:00 AM – PW Council Meeting
5/7 – 9:30 AM – Adult Sunday School
10:15 AM – Choir rehearsal
10:30 AM – Worship Service – PW Birthday Offering
11:45 AM – Choir Rehearsal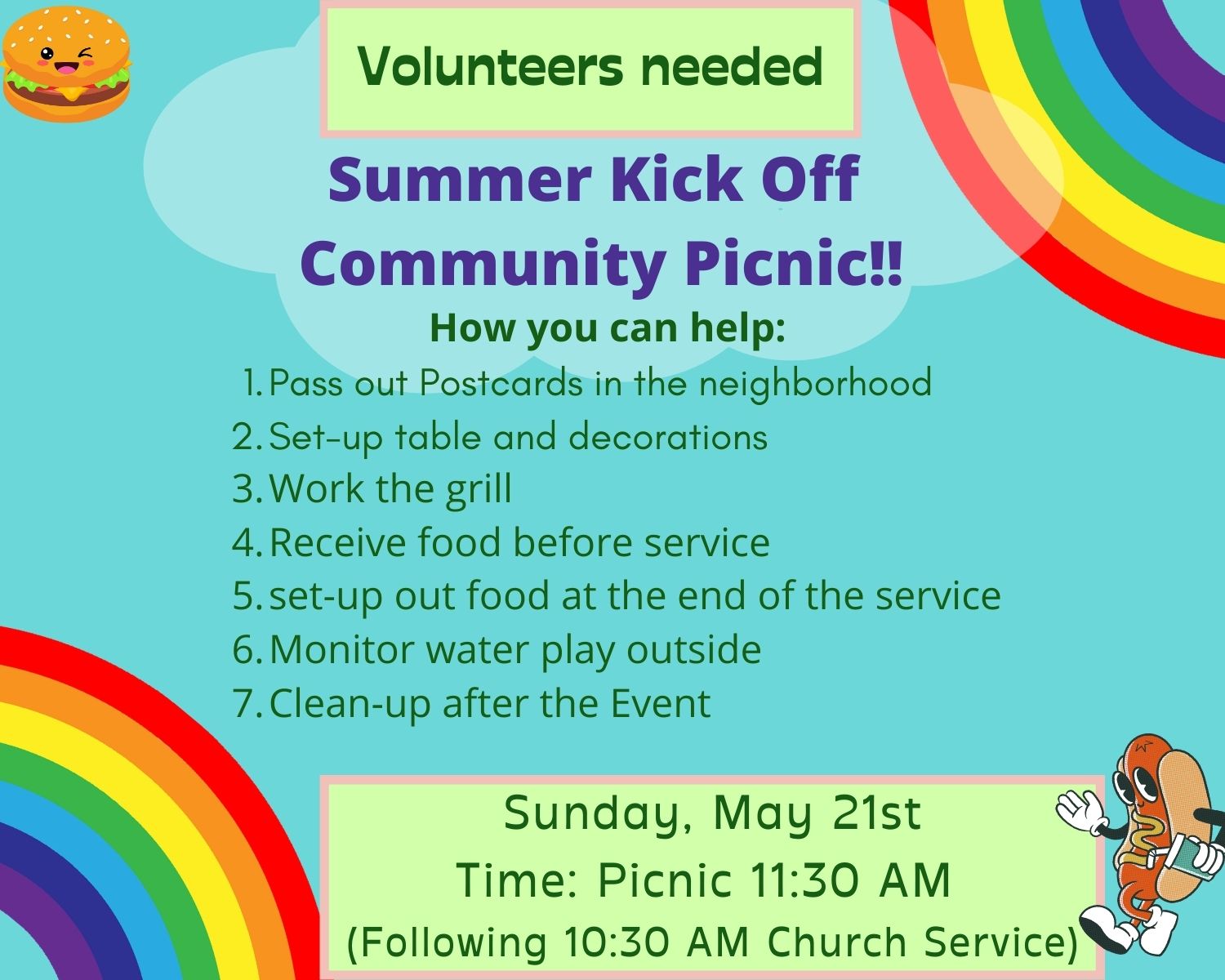 ---
4201 Transcontinental Dr
Metairie, LA 70006
Church 504-888-1375
Playschool 504-888-1378