Welcome to Worship
Sunday Worship
10:30am in-person and
on our YouTube channel
Watch Our Latest Worship Service
Daily Prayer Video
WEEKLY ANNOUNCEMENTS SEE WHATS COMING UP!!!
Announcements:
DEVOTIONAL SPOTLIGHT: Contemplations from the Heart: Spiritual Reflections on Family, Community, and the Divine How do we find God in a world where God often seems to be hidden? How do we love one another and seek social justice? This series of theological and spiritual reflections on family and community helps readers see spirituality in daily life, exploring current issues such as global warming, environment, racism, child rearing, and sexism in relation to the church to offer readers new insights and directions for living as faithful Christians.
This book's brief, daily reflections on universal concerns give voice to what many people feel but struggle to articulate, bringing emotions to the surface to help readers apply theology in their everyday lives. The book's thirty entries make it ideal for a month of daily personal devotions or group study and discussion.
TABLE CLOTH DINNER: Join us Wednesday 5/17 at 6:30PM at outback steakhouse for our next tablecloth dinner. We will be able to order from the menu and get separate checks. They also offer a senior discount.
CLOTHING DRIVE: Are you taking advantage of this season to do some spring closet cleaning but don't know where to donate your clean gently used clothes? Fear not, we are collecting clothing for the Program of Hope. We will distribute items to our POH guests in the hot month of June along with lunches. The Drive will end on May 24 with our sorting and boxing party. Needed are Men's and Women's: Summer casual slacks, jeans, tops, white shirts, blouses, black pants for work, plain sturdy shoes (no formal shoes or high heels please), tote bags, new socks and underwear in (ORIGINAL UNOPENED PACKAGE), rain ponchos and sunglasses.
YOUTH SUNDAY: Sunday May 21st will be our next youth service. If your youth wants to be part of the service please let Louise know.
ALL CHURCH AND COMMUNITY PICNIC: Please plan to Join us on May 21st for our next youth service followed by an all church and community Picnic to kick off the Summer. This is an all hands on deck activity so please see the insert in your Bulletin to sign up to help. We welcome all volunteers and have lots of options for before, during, and after the event. The Church will provide the main dish, hamburgers and hotdogs. Please bring a dessert or picnic side to share, such as salad, fruit, a variety pack of chips, or whatever you like to eat at a picnic. Most importantly don't forget to invite your friends and neighbors. This event is for everyone, and we can't wait to fellowship together.
PW BIRTHDAY OFFERING: This week we will be taking up the PW Birthday offering. Each year, the Birthday Offering awards grants to up to five programs. Primarily making possible capital improvement projects, the Birthday Offering supports domestic and international ministries, focusing on areas such as agricultural development, child care, community organization, criminal justice, drug counseling, economic justice, elderly care, employment training, homelessness, literacy, violence or women's concerns.
EVENTS AND MEETINGS THIS WEEK:
5/7 – 11:45 AM – Choir Rehearsal
5/8 – 12:15 PM – Playschool Meeting
5/10 – 6:00 PM – Worship Committee Meeting
5/11 – 10:00 AM – Game Day
5/14 – Mother's Day
9:30 AM – Sunday School

10:15 AM – Choir Practice

10:30 AM – Worship Service

11:45 AM – Choir Rehearsal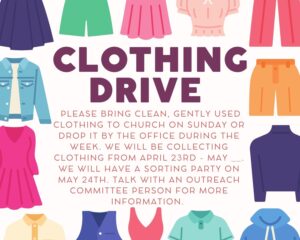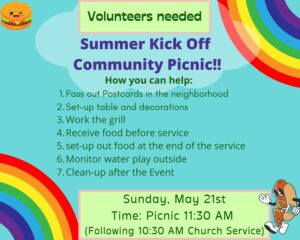 ---
4201 Transcontinental Dr
Metairie, LA 70006
Church 504-888-1375
Playschool 504-888-1378