Welcome to Worship
Sunday Worship
10:30am in-person and
on our YouTube channel
Watch Our Latest Worship Service
Daily Prayer Video
WEEKLY ANNOUNCEMENTS SEE WHATS COMING UP!!!
Announcements:
MAMMA MIA SING-ALONG: Chinese Presbyterian is hosting a sing-along to Mamma Mia on Friday, Nov. 24th afternoon at 4:30pm. All are welcome.
ANGEL TREE: Every child deserves to experience the joy of Christmas morning. The Salvation Army Angel Tree program helps provide Christmas gifts for hundreds of thousands of children around the country each year. So grab a tag off the tree, shop for your child, and return gifts to the church by Dec. 3rd. You can do this on your own or team up with a friend. We even have elves willing to do the shopping for you if you prefer to make a monetary contribution instead of shopping. More information can be found on the tag and the attached information sheet, when you take one off the tree.
CHURCH AUCTION!! Our Church Auction is going live on Monday Nov. 20th at noon. Here is the link: https://www.32auctions.com/JCPChurch You all have donated so many wonderful items. Now we need people to buy them. We will be sending out an email next week with all the details for the Auction, including this link. We need you to share the link with your friends and family. We will make a post on Facebook that you will be able to share on your social media and we have small business card size flyers you can share in person. We also need volunteers to staff our drop off days and times and pick-up days and times. So if you have available on the 15th or 16th of Dec. please talk with Sue. Also if you have an item you intended to donate but have not had a chance to it get to Louise there is still time. We can add items after the Auction goes live but in order to get as many views as possible for your item the sooner we get it in the Auction the better. So please email Louise as soon as possible.
OFFICE CLOSURE FOR THANKSGIVING HOLIDAYS: The office will be closed from noon on Tuesday Nov. 21st and will reopen on Monday Nov. 27th. We will not have youth Fellowship time on the 26th, however we will have a children's church.
ALL CHURCH GATHERING OPPORTUNITY: Do you want to see a full solar eclipse and fellowship with your church members and other Presbyterians at the same time? We have a great opportunity to join Presbyterians from all over the country in Little Rock AK for an Intergenerational Creation Care Event culminating with the total solar eclipse at Ferncliff Camp and Conference Center. Please see the insert for more information. You can register with this link https://bit.ly/creationcareevent2024. We are asking everyone to register on their own, so you can select the accommodations that best suit your family. Then let us know you will be attending. We hope that families and individuals of all ages will join together for this wonderful all church event.
ADVENT DEVOTIONALS: Even though it's not even thanksgiving yet now is a great time to get your advent devotional ordered. Here is this week's suggestion: Advent in Plain Sight A Devotion Through Ten Objects By Jill J. Duffield. At Christmas, God came into our ordinary world in the form of a child, and still today, God is at work through the ordinary stuff of life, if we train our eyes to see.
In this daily devotional for Advent, Christmas, and Epiphany, Jill J. Duffield draws readers' attention to ten ordinary objects that appear in the biblical narratives of messianic prophesy and incarnation–objects we encounter in our own lives. Through objects such as gates, trees, cloth, light, and water, readers will find new meaning in the biblical account of Jesus' coming. By connecting everyday objects with biblical texts, Advent in Plain Sight prompts readers to see the near kingdom of heaven on earth and ponder what that divine proximity enables and asks them to do and be. Each daily devotional features a Scripture reading, prayer, and reflection, reminding Christians that God still dwells among us, even in the most ordinary places.
BONUS FAMILY RECOMMENDATION:Advent in Narnia Reflections for the Season By Heidi Haverkamp Walking into Advent can be like walking through the wardrobe. With its enchanting themes of snow and cold, light and darkness, meals and gifts, temptation and sin, forgiveness and hope "and even an appearance by Father Christmas "C. S. Lewis's The Lion, the Witch, and the Wardrobe fits naturally into the Advent season. As the reader seeks a storied king and anticipates the glorious coming of Christmas, these twenty-eight devotions alternate between Scripture and passages from the novel to prompt meditation on Advent themes. Each devotion also includes questions for reflection. The book also provides several resources for churches, including four sessions for small group discussion and ideas for creating a Narnia Night for families. Readers will ultimately come to know God better while journeying through Narnia.
ZOOM ADVENT BIBLE STUDY: Join us each Thursday evening in December at 6:00 PM for a special Zoom Bible Study for Advent. We will be studying the book: Holy Disruption. Holy Disruption presents a fresh understanding of the holiness of Christmas grounded, not in a conventional cozy Christmas message, but through Mark's disquieting gospel which invites its readers to experience God's disruptive but transformative love for us and our world.Each week a different teacher will walk us through one of the four advent lessons. Please let Louise know if you would like us to order you a book. Right now they can be purchased on the PCUSA website for $10 but the price is subject to change. If you need a quick zoom tutorial or refresher prior to the start of the Bible study let Louise or Pastor Aaron know and we will get you set-up.
PLAYSCHOOL HAPPENING AND FUNDRAISERS: Join us on Nov. 29th for a fundraiser. Eat at Reginelli's between 11:00 am – 9:00 PM and they will donate 10% of your order when you mention the playschool.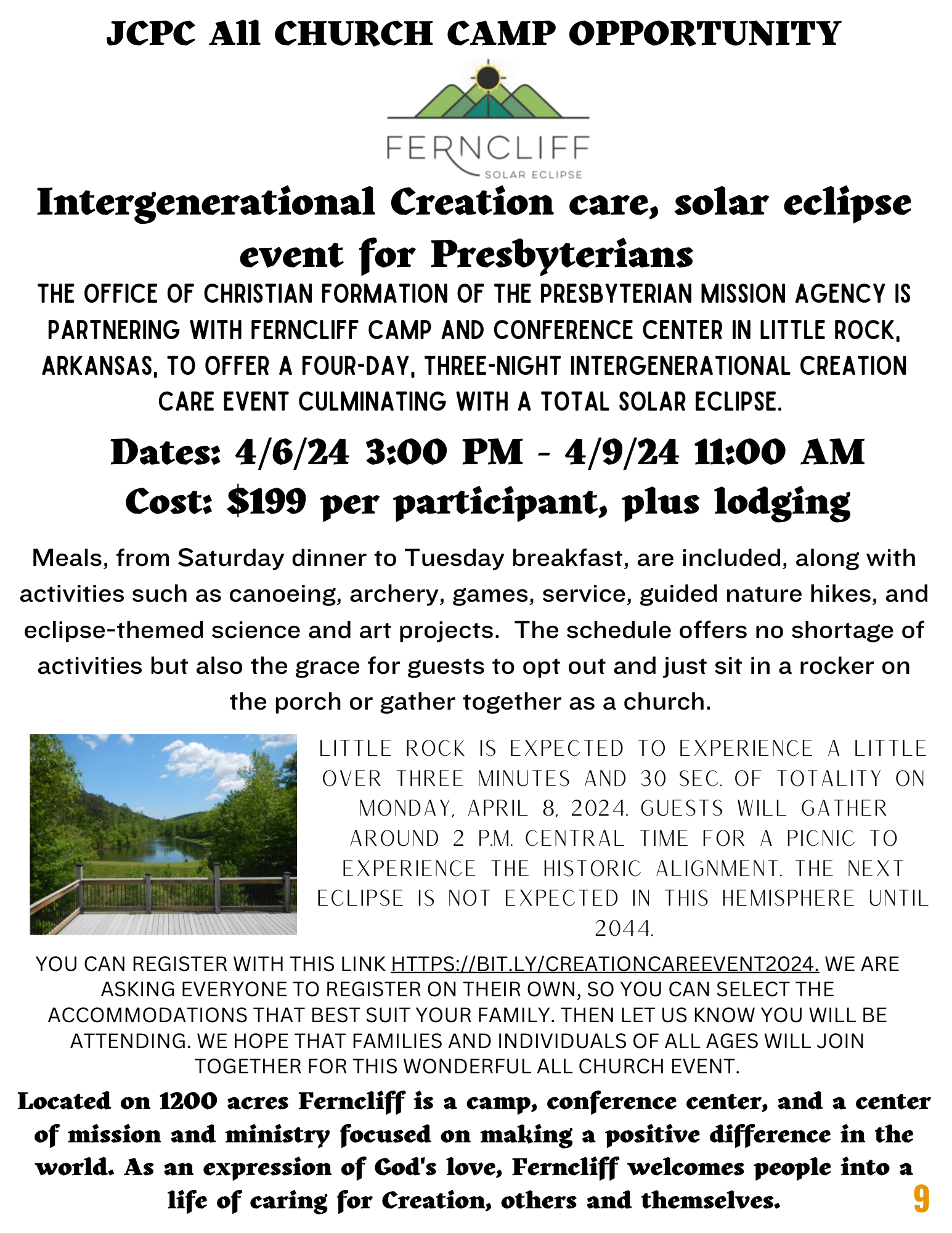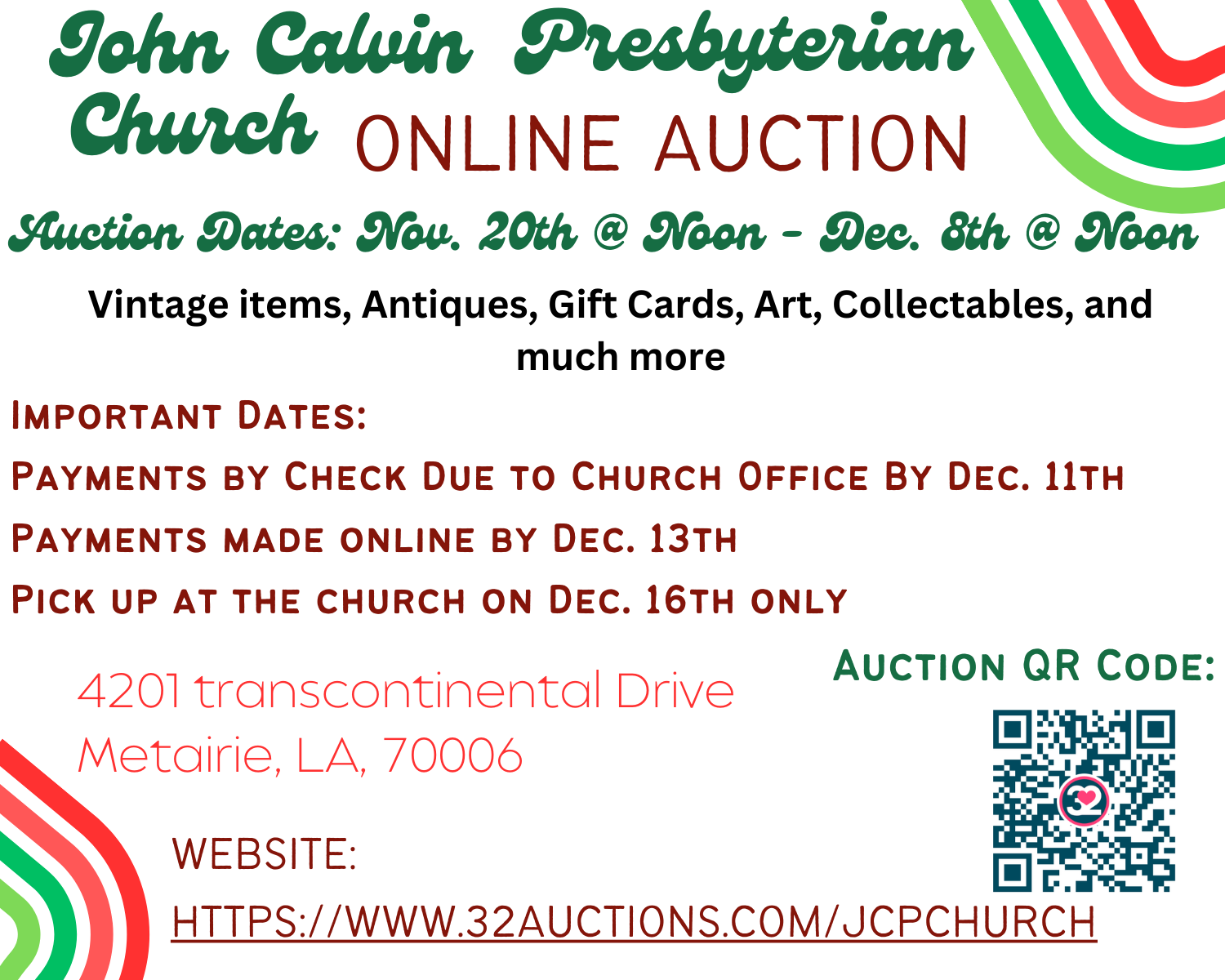 ---
4201 Transcontinental Dr
Metairie, LA 70006
Church 504-888-1375
Playschool 504-888-1378