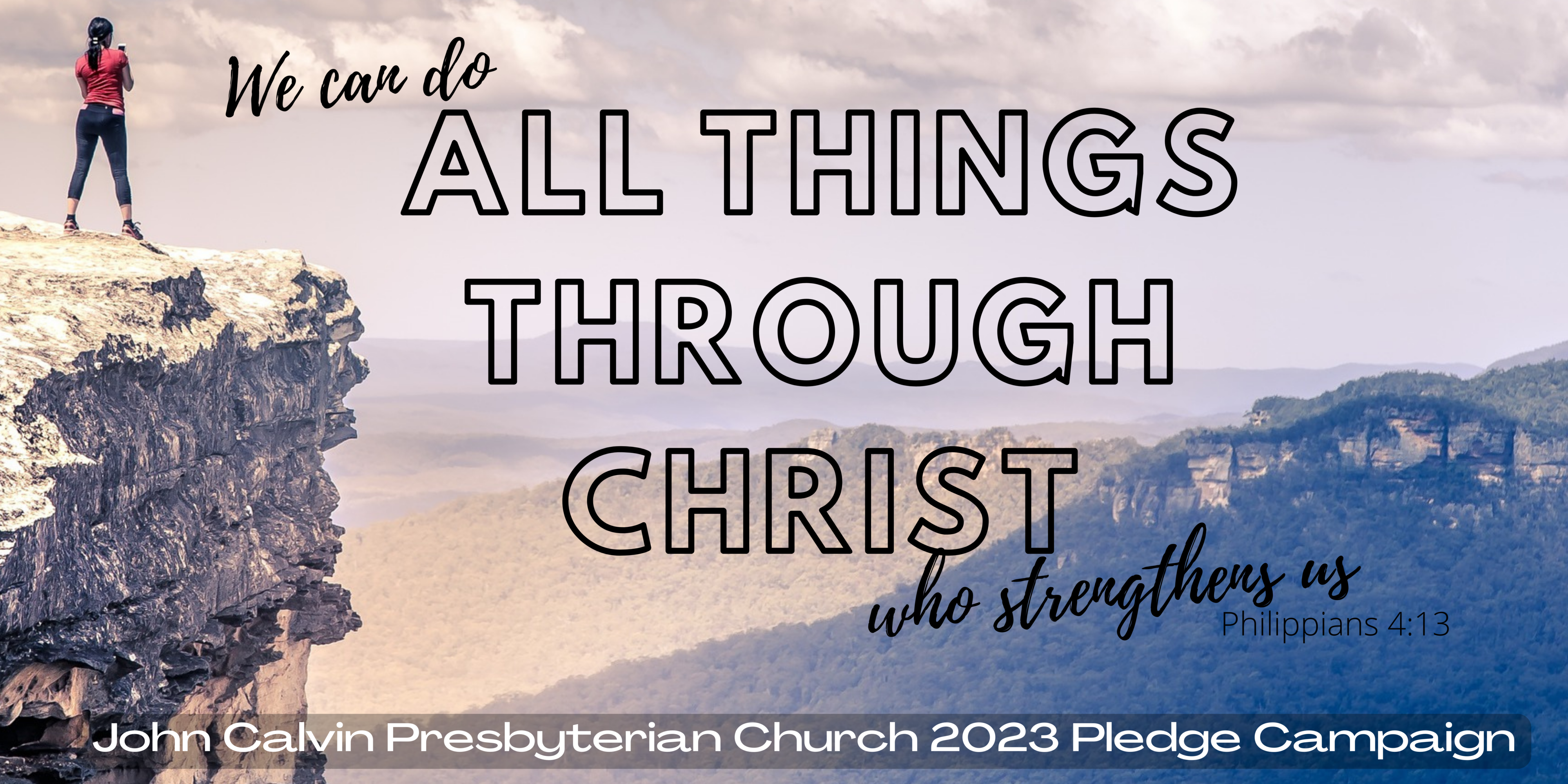 "We can do all things through Christ who strengthens us" Philippians 4:13
In times when life feels overwhelming, we need to remember from whom our strength comes. At John Calvin, the Lord has blessed us with faithful members, a young energetic minister, and a beautiful, functional facility. Our church is well known in the community for a Playschool that nurtures young children and a meeting place for a variety of anonymous groups. Yes, we have had some trying times, but through it all, Christ has strengthened us and continued to bless the work of the church.
Using technology, the church now reaches out to the community and beyond by providing the Worship Service as well as Daily Prayer through our YouTube account. This blessing allows those who are unable to attend in person (for whatever reason) the opportunity to continue as a vital part of our faith community.
However, just as you've seen your expenses increase over the last year, the expenses for the church have also increased. The largest increase has been in insurance. Before Hurricane Ida, the church's property insurance premium was $6,790 a year. After Ida, the company would no longer insure the church and this year's premium through the Louisiana Citizen's Property Insurance is $53,144! A comparison of utilities though August shows an increase of $4,187 in 2022.
Thank you for the generosity you have shown John Calvin! Generosity is a tool God uses to shape our hearts; it's a continual reminder of God's claim on our lives and your generosity has been a vital part of our church's mission.
This is the time of year to reconsider the gifts we have to offer. And so we ask you to make a pledge; a promise between you and God. Consider one area of the church where you can give of your time and talent. Consider a way you can make a financial offering to the church. (If you have pledged in the past, please consider increasing your pledge by 5% or more as we work through budget challenges.)
Thank you for being a vital part of the John Calvin family. Know that, together, WE CAN do all things through Christ who strengthens us!
In Christ's Name, we are the Session members of John Calvin.