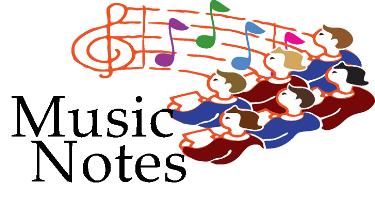 FROM THE MUSIC CORNER
Recruitment Announcement: this is a "down season" for the choir and orchestra. The choir still rehearses on Wednesday evenings at 7:15 pm (short rehearsal version). Since we are preparing for Sundays in June and July, it is a great time for new choir members to join. We often hear prospective members offer these excuses for staying away:
"I've never sung in a choir before." Our answer: a number of current choir members are fairly new to the choir loft.
"I don't have a great voice." Our answer: most of our choir members are just that — volunteers with more desire than demonstrated talent.
"I don't read music." Our answer: you'd be amazed at how quickly you "pick up" reading music. And we'll help you.
AND – it's fun. You get to wear your own green robe. We celebrate your birthday (monthly). You get to sing some of the greatest music ever written. You get to sing twice a year with a professional orchestra.
And speaking of orchestra: our in-house orchestra needs more players (even kids). Usually we rehearse on Sunday mornings at 10:00 am. Bring your horn (or whatever)"
Just let me know so I can have parts prepared. Join in the fun of being part of the JCPC "Music Corner."
SOLI DEO GLORIA.