Presbyterian Women
John Calvin's Presbyterian women's council held its first meeting of the 2016-17 year, on August 2nd. The council is comprised of the following women: Sandy Cranfill, Julie Etland, Sharon Fortin, Carol Fourmaux, Emily Garland, Lorraine Hicks, Jananne Lankard, Barbara Remmelts, Evelyn Tobey and Ann Trapani.
We would like to report on the following projects we support:
School supplies for Alice Birney – Supplies were purchased to be distributed this school year. Due to the congregation's incredible generosity last fall, no additional funds were required for these purchases. The majority of the school supplies will be distributed in January when the need for replacements is greatest.
John Calvin offers two women's circles, for the purpose of Bible study, fellowship and Christian support. The literature to be used this year is called, "Who Is Jesus? What a difference a Lens Makes". The study uses scripture to explore how we can learn who Jesus is. Lydia Circle meets in the church library, at 7:00 P.M. on the 2nd Tuesday of each month. Grace Circle meets in the church library, at 9:30 A.M. on the 3rd Tuesday of each month. Both circles will study the same material so participants can attend whichever is more convenient. Feel free to change your meeting choice monthly as your schedule changes.
Fun and Games!!! All adults are invited to meet in the church library to play board games and enjoy fellowship. We will meet twice a month, beginning on Sept. 8th and 22nd, from 10:00 AM to noon. Save the date!!!
The 1st "annual" Christmas cookie swap is planned for the afternoon of Dec. 4th. This event is open to everyone. Participants will bake 6 dozen cookies, from a single recipe. One dozen will be served to sample then each participant will take home a mixture of 5 dozen. Copies of each recipe should be made available.
******************************************
2016-17
Lydia Circle and Grace Circle are composed of Women of John Calvin Presbyterian Church. Lydia Circle meets at 7:00 p.m. in the church library on the second Tuesday of each month, with the first meeting scheduled on September 13. Grace Circle also meets in the church library, but on the third Tuesday of each month at 9:30 a.m., with their first meeting scheduled on September 20th.
Carol Fourmaux is the Lydia Circle leader, and at each meeting there will be a hostess providing light snacks. Additionally, one of the members will have volunteered to be the moderator for that particular monthly lesson. Grace Circle, lead by Barbara Remmelts, follows the same meeting format as well.
Who is Jesus? is the topic of this year's study, and we will discuss the idea of the many lenses through which we see and discover Jesus' identity.
There are many resources to help the ladies prepare each lesson, and the fellowship & input in the study will be an enjoyable way towards committing ourselves: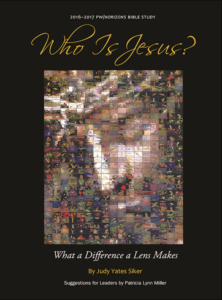 ¨ to nurture our faith through prayer and Bible study,
¨ to support the mission of the church worldwide,
¨ to work for justice and peace,
¨ and to build an inclusive / caring Presbyterian (USA) and witnesses to the promise of God's kingdom,
…all of which is the Presbyterian Women's Purpose.
Please come and join us in Lydia Circle or Grace Circle.
——————————————————————————————
ROLE OF PRESBYTERIAN WOMEN:
The role of the Presbyterian Women Organization is to determine the leadership of Presbyterian Women at every level of the church; discover and utilize the gifts of members of Presbyterian Women; plan and implement the program of mission and prayer for their group; review, evaluate, and reshape the program of Presbyterian Women as appropriate each year and set goals and objectives for the coming year; maintain Presbyterian Women's ongoing activities, (e.g. Bible Study, Circles, Celebration giving, and mission interpretation; support the mission of the PC (USA) through prayer, giving, education, global awareness, and personal involvement. Determine the budget of PW and to receive and disburse Presbyterian Women's funds; maintain connections with Presbyterian Women at all governing body
levels; prepare an annual written report and relate to the appropriate governing body; maintain relationships with Church Women United and other ecumenical groups, community networks, and advocacy networks as appropriate.
CT = Coordinating Team
PW= Presbyterian Women
PWSCT = Presbyterian Women Synod of the Sun Coordinating Team
JOHN CALVIN PRESBYTERIAN WOMEN
The Presbyterian Women's organization of John Calvin includes a Coordinating Team of seventeen women who meet once a month to finalize prior business, plan future events, and share information and concerns about our church family and the larger community.
Mission projects are the number one focus of Presbyterian Women.
Through our Community Concerns Committee, we donate school supplies to needy children; prepare Thanksgiving Baskets for community distribution; and participate in the Salvation Army Christmas stocking and Angel gift programs. The White Cross Committee gives bi-monthly birthday parties for the residents of Raintree Children Services and donates "housekeeping items" to the Jefferson Parish Shelter for Women and Children. The Missions Committee collects medical supplies for the Mantanza Presbytery in Cuba. Sheets, receiving blankets, and health related items are collected for hospitals in Africa. At John Calvin, the Presbyterian Women also oversee the food pantry that is maintained for those who come to the church seeking help.
As John Calvin endeavors to become a Missional Church, all members and friends are encouraged to participate in these projects.