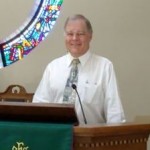 Reverend Harry A. Brown
Pastor
harry.brown@johncalvinchurch.org
Reverend Brown was born and raised in Bathgate, North Dakota. He attended North Dakota State University and graduated with a Bachelors degree in Psychology. He continued on to the University of Dubuque Theological Seminary and graduated with a Masters in Divinity. On February 25, 1979, he was ordained by the Presbytery of Northern Plains and served the Sibley Trail Parish at Buffalo, North Dakota for ten years. He then accepted a call to serve First Presbyterian Church in York, Nebraska. He was pastor there for fourteen years. In April 2003, Reverend Brown accepted God's call to serve John Calvin Presbyterian Church in Metairie. He is excited about sharing in John Calvin's mission of closing the gap between what is and what ought to be. He looks forward to the joys and challenges of engaging and equipping one another for the life and work of God's church through worship, spiritual development, and vibrant fellowship. He eagerly anticipates facilitating the proclamation of the Gospel in the community, inviting new friends into Christian fellowship, and providing for their health and to bring wholeness to God's creation. Reverend Brown and his wife Laurell have two grown children, Joshua and Jessica.
Josh is a graduate of Iowa State and has a Masters in Mechanical Engineering and lives in Austin, TX with wife, Jenni, son Hunter and daughter, MacKenzie. Josh is a Sr. Software Engineer. Jenni works for a daycare part time. They are active in their church, Hope Presbyterian in Austin.
Jessica graduated from Texas Tech Health Sciences Center with a Masters in Athletic Training. Moving from St. Louis, she and her husband, Billy Streu live in Austin, Texas. Billy recently took a position with Covenant Presbyterian Church as the Student Ministry Director of High School. They have two children, Anabell, who is 5 yrs old and Augie who will be 2 in May, 2017.
Harry likes to spend time with Laurell, enjoys woodworking, jogging, and golf.
Eleanor Henneman
Church Office Administrative Assistant
eleanor.henneman@johncalvinchurch.org
We would like to introduce John Calvin Presbyterian Church's new Office Administrator, Eleanor Henneman.
Eleanor is from Alexandria, LA, yet has lived most of her life in Metairie. She graduated from LSU and has 20+ years work experience in Human Resources and Office Management.
Eleanor is married to her high school sweetheart, Christopher, who runs his own graphic design firm, Henneman Design. They have two wonderful daughters. Morgan, an aspiring Chef, is married to Aaron James and is expecting their first child in the fall. Taylor, a graduate from University of Louisiana Lafayette, has a degree in Biology and is continuing her education for her PA degree.
Eleanor will be a great addition to John Calvin. Not only does she look forward to working again in a Christian atmosphere, but she also has a strong understanding of the inner workings of a church.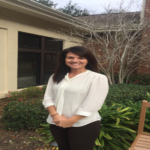 Julie R. Hebert
Christian Education Leader
julie.hebert@johncalvinchurch.org
Julie Hebert, a member of John Calvin Church, has joined our staff as the Christian Education Leader. Julie was born and raised in New Orleans, Louisiana. Julie received her bachelor's degree from Our Lady of The Lake College in Baton Rouge, Louisiana. Shortly after college she married her high school sweetheart Josh Hebert. Julie and Josh were blessed with three high-spirited bundles of joy (Caleb 11, Christian 7, and Joseph 3). Caleb is currently in fifth grade at Christian Brother School, Christian is in second grade at Hynes Charter School, and Joseph is in the three year old program at Little Red Schoolhouse.
Julie has eleven plus years as a Medicare Billing Specialist, mom, and wife. Between working for home health agencies she was room mom at the boys' schools, volunteered many hours at book fairs, field trips, and helped care for her beloved nieces and nephew when needed. Julie has worked with youth as a substitute teacher, taught vacation bible school, and lead group activities for schools. Julie hopes to bring new ideas and form lasting relationships with the youth and their families at the church. Julie will use her expertise from her experience with children, strong faith, and administrative skills together to make a strong Christian Educator of John Calvin Church.

William R. Memmott
Church Organist and Choir Master
William R. (Bill) Memmott grew up in northern New Jersey, the son and brother of Presbyterian ministers. He began serving as an organist at age twelve, serving churches in New Jersey, New York City, St. Louis, and New Orleans. He studied organ with Dr. Charlotte Garden of the Sacred Music School of Union Theological Seminary, Dr. Carl Weinrich at Princeton University and Jean Langlais of Ste. Clotilde, Paris. His composition studies were with Milton Babbitt and Edward Cone at Princeton University and with Dr. Leigh Gerdine at Washington University in St. Louis. Other music studies included piano, trombone, violin, conducting and musicology. Over the years he served at Memorial, Westminster and Northminster Presbyterian Churches in St. Louis. He was Head of Music Activities at Fontbonne University in St. Louis and conducted at St. Louis University. He was the founder and artistic director of The Bel Canto Chorus and Orchestra and performed widely as conductor and recitalist. His compositions include works for piano, organ, choir and instrumental ensembles. Bill was also President and Tonal Director of Louis IX Associates Pipe Organ Company. Since moving to New Orleans, he most recently was Organist/Choir Master at St. Anna's Episcopal Church and served on the Episcopal Bishop's Commission on Worship and Liturgy. He currently serves as Dean of the local chapter of the American Guild of Organists. He enjoys the regular choir work as well as two concerts yearly with professional orchestra and soloists. If you sing or play an instrument, consider joining the choir.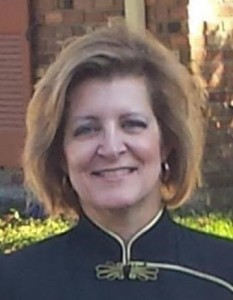 Julie Etland
Accompanist
Mrs. Julie Etland is our new Accompanist and we're blessed by her talents!
Julie is an attorney, and a recent federal government retiree with over 31 years' experience. She spent more than 20 years as a federal law enforcement agent, and three additional years as a special prosecutor in the United States Attorney's Office. She currently runs a home-based law enforcement consulting business.
Julie has been a Christian for over 45 years, and loves being a mother to her 10-year-old son, Ethan, who attends John Calvin with her. They both fell in love with John Calvin when Ethan attended the preschool here. Julie is married to a retired Louisiana State Trooper, Brian, and she and her husband enjoy do-it-yourself projects around their home and yard. Julie studied piano for over 15 years, and has continued to play throughout her life. She is very excited to be a part of the music program at John Calvin Presbyterian Church.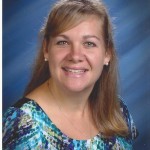 Lauren Crisler Oufnac
Playschool Director
lauren.oufnac@johncalvinchurch.org
Lauren graduated from Loyola University with both a Bachelor of Arts Degree and a Master's Degree in Counseling. She is certified as a school counselor as well. Lauren began in the playschool as a mom and room parent and enjoyed the school so much she decided to become a teacher. Lauren accepted the position of Director and looks forward to ensuring that other parents have the same wonderful school experience that she had as a parent. Lauren truly believes in the philosophy of our Playschool and how much our students learn through play and hands-on activities.
Caroline P. Orgeron
Playschool Administrative Assistant
caroline.orgeron@johncalvinchurch.org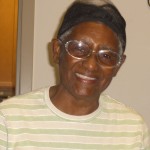 Hazel Julien
Custodian